BinDawood Holding
—
BinDawood Holding reports 8.2% sequential increase in net profit in Q1 2021
Expecting Quarterly Sequential Growth throughout 2021
BinDawood announces a 10-store expansion in Riyadh province
Jeddah, Saudi Arabia; 9 May 2021 – BinDawood Holding Co. (Tadawul: 4161 and the "Company"), one of the leading grocery retail operators of hypermarkets and supermarkets in the Kingdom of Saudi Arabia ('KSA'), today reported its first quarter 2021 financial results.
Financial Highlights
| SAR(M) | Q1 2021  | Q1 2020 | % Up / (Down) | Q4 2020 | % Up / (Down) |
| --- | --- | --- | --- | --- | --- |
| Revenue | 1,124.4 | 1,413.2 | -20.4% | 1,113.2 | 1.01% |
| Gross Profit | 373.4 | 452.4 | -17.5% | 359.1 | 4.0% |
| Operating Profit | 86.8 | 151.6 | -42.7% | 63.2 | 37.3% |
| Net Profit | 62.1 | 126.3 | -50.8% | 57.4 | 8.2% |
On a sequential basis, performance improved, reflecting a gradual return to normalized trading across the 74 stores.
BinDawood Holding announces plan to bring the BinDawood retail brand to Riyadh for the first time, committing to the opening of 10 stores across the province over a five-year period from 2022-2027 and increasing that number if there is further market demand. This expansion is in addition to the Company's current commitment of opening 5 to 6 stores per year until 2024.
Comments from Ahmad AR. BinDawood, CEO of BinDawood Holding:
"It has been a tough start to the year as the local Saudi grocery retail market continues to remain subdued. It is heartening to see some green shoots of recovery but overall, we see a return to pre-Covid sales only in the second half of 2021. Our revenue for Q1 2021 is SAR 1.12bn compared sequentially to SAR 1.11bn in Q4 2020. The marginal gain was driven by higher sales across BinDawood stores. Our net profit this quarter is SAR 62.1m compared sequentially to SAR 57.4m in Q4 2020, an 8.2% improvement. Our performance is significantly down year-on-year but when making this comparison it is important to bear in mind the one-off gain in sales from pantry-buying in March 2020, as a result of the national lockdown, which helped bolster those numbers. Also, the stores in Makkah and Madinah and surrounding areas were fully operational in Q1 2020 whereas in Q1 2021 they had restricted activity due to pandemic restrictions.
"The easing of restrictions, the gradual return of pilgrims and the implementation of promotions and festivals are all due to restart in late-May. A reduction in costs incurred as a result of Covid-19 and an improvement in the performance of the BinDawood stores in Makkah and Madinah and the surrounding areas, the sales of which are already higher by 5.6% in Q1 2021 versus Q4 2020, makes us cautiously optimistic that the sales and profits for this year will start to converge with those of 2020 during the second half of the year.
"Furthermore, we are excited to announce we will be bringing our eponymous BinDawood brand to the Riyadh Province. We plan to open 10 BinDawood stores across the province between 2022 and 2027 and to increase that number in line with market demand. As a recently listed company, we are very proud to announce this investment in the Riyadh Province, which will not only increase our physical footprint across the Kingdom but will also result in more employment opportunities for Saudi nationals in the supermarket sector. These store openings are in addition to the 5 to 6 store openings per year we have already committed to and of course, our international expansion into Bahrain."
Financials: Q1 2021
First quarter revenue 2021 increased 1% sequentially to SAR 1,124.4 million versus SAR 1,113.2 million for the fourth quarter 2020. As compared year-on-year to Q1 2020, the Company witnessed a decrease in revenue from SAR 1,413.2 million to SAR 1,124.4 million.
The sequential growth in quarterly sales was driven by BinDawood stores, which contributed SAR 317.3m in Q1 2021 versus SAR 300.6 million in Q4 2020. This 5.6% jump in sales was principally from the Company's five stores located in the Makkah and Madinah ("Haramain") area, which witnessed the return of a select number of local pilgrims performing Umrah in the first quarter 2021. BinDawood store sales helped to offset a SAR 5.4 million or 0.7% decline in Danube revenues. The Danube stores posted sales of SAR 807.1 million in Q1 2021 versus SAR 812.6 million in Q4 2020.
Both BinDawood and Danube stores saw an overall SAR 288.8 million or 20.4% fall in Q1 2021 sales from the corresponding period in the previous year. BinDawood sales dropped by SAR 144.6 million or 31.3% and Danube was down SAR 144.2 million or 15.2%. The SAR 288.8 million decline in revenue is attributable mainly to non-recurring pantry buying in the month of March 2021 and a SAR 55.7 million a drop in sales from the Haramain area, which closed its stores on 17 March 2020 due to the pandemic. In addition to above, sales for Q1 2021 suffered due to lack of promotional campaigns and food festivals as a result of social distancing restrictions introduced to combat the pandemic.
Gross profit for Q1 2021 was SAR 373.4 million, or 33.2% of sales. Gross profit for Q4 2020 was SAR 359.1 million, or 32.3% of sales. This sequential increase in gross profit and gross profit margin was driven by BinDawood's Haramain store sales posting improved sales and gross margin. However, Q1 2021 gross profit remains lower as compared to Q1 2020 gross profit of SAR 452.4 million, or 32.0% of sales, due to drop in sales as explained above even though gross margin improved by 120 basis points due to reduction in shrinkage and wastage.
Operating expenses in Q1 2021 were SAR 288.6 million versus SAR 303.8 in Q1 2020. This decrease is due to curtailment of Covid-19 related expenses in the current quarter as compared to the same period last year. On a sequential basis also, operating expenses were SAR 8.2 million lower, reflecting management's cost containment measures.
The Company's Q1 2021 net profit is SAR 62.1 million, sequentially higher by 8.2% versus Q4 2020 but down by half as compared to SAR 126.3 million in Q1 2020.
The Company's financial position continued to be strong with no bank debt. Cash generated from operations in Q1 2021 was SAR 272.3 million versus SAR 31.4 million in Q4 2020. This significant increase was due to normalization of working capital level during current quarter compared to higher level of working capital investment in Q4 2020. The cash generated from operations was higher at SAR 419.9 million in Q1 2020, reflecting higher profitability and lower investment in working capital. As of 31 March 2021, the Company had a cash balance of SAR 396.6 million, which represented an increase of 70.8% as compared to 31 December 2020.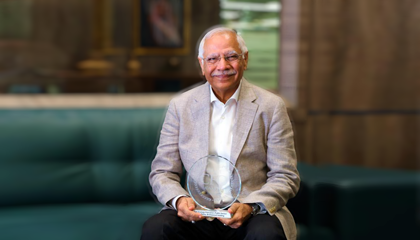 Best Strategy and Execution – Public Sector
Salim Patka,
CFO,
BinDawood Holding
November 2020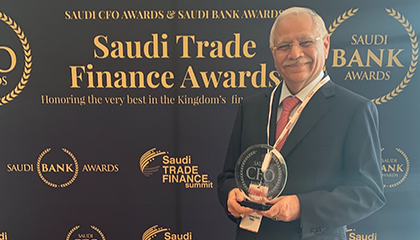 Chief Financial Officer of the Year
Salim Patka,
CFO of the Year
Saudi Trade Finance Awards
November 2019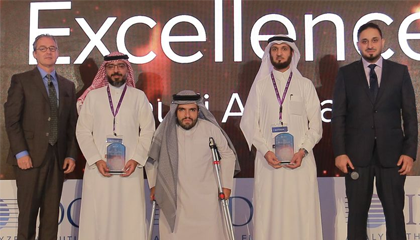 Digital Innovation Awards
Danube Online
Excellence in Digital Innovation
IDC CIO Excellence Awards, KSA
September 2019