Bindawood Holding
—
BinDawood Holding announces full year 2020 financial results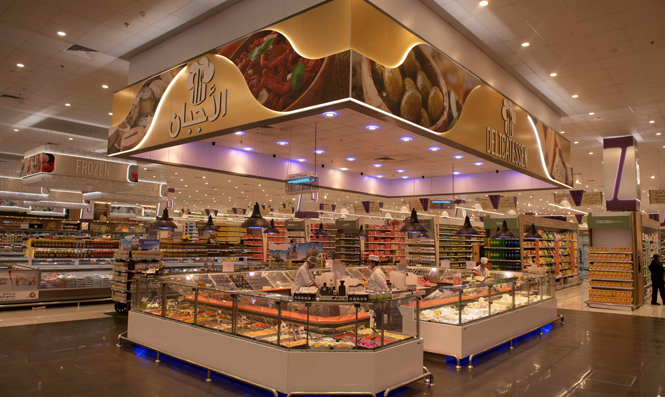 Jeddah, Saudi Arabia; 29 March 2021 – BinDawood Holding Co. (Tadawul: 4161 and the "Company"), one of the leading grocery retail operators of hypermarkets and supermarkets in the Kingdom of Saudi Arabia ('KSA'), today reported its fourth quarter and full year 2020 financial results.
Financial Highlights
| | FY2020 (SAR M) | FY2019 (SAR M) | % Up / (Down) |
| --- | --- | --- | --- |
| Revenue | 5,156.5 | 4,843.8 | 6.5% |
| Gross Profit | 1,671.9 | 1,644.5 | 1.7% |
| Operating Profit | 514.6 | 518.3 | (0.7)% |
| Net Profit | 447.7 | 419.1 | 6.8% |
| | Q4 2020 (SAR M) | Q4 2019 (SAR M) | % Up / (Down) |
| Revenue | 1,113.2 | 1,220.3 | (8.8)% |
| Gross Profit | 359.1 | 421.8 | (14.9)% |
| Operating Profit | 63.3 | 147.6 | (57.1)% |
| Net Profit | 57.4 | 123.8 | (53.6)% |
Board of Directors approved full year dividend of SAR 2.8 per share, totaling SAR 318.6 million.
Cash balance of SAR 232.2 million, with no bank debt
5 new Danube stores opened in the FY 2020; Bahrain named as first international store location, opening late 2021/early 2022
Danube sales grew 17.5% annually despite challenging trading environment
Comments from Ahmad AR. BinDawood, CEO of BinDawood Holding:
"We closed our fiscal year 2020 with sales of SAR 5.2 billion, led by a 17.5% growth in sales at our Danube supermarkets, and a 6.8% increase in net profit to SAR 447.7 million for the Company. This strong set of results demonstrate the strength and resiliency of our business, given that our operations faced numerous Covid-related headwinds that affected our performance, particularly in Q4. Most significantly, the restriction on international flights meant we were unable to serve the hundreds of thousands of pilgrims that regularly flow through Makkah and Madinah for Hajj, Umrah and Ramadan. We were optimistic at the end of Q3 that a gradual shift to normalization would occur around these cities. However, with the second wave of Covid-19 ensuing, the consequential safety restrictions on tourism had a negative impact on our BinDawood supermarkets revenue in Makkah and Madinah. Other headwinds faced during the year included the absence of promotional campaigns such as Back to School following school closures, a shift in consumer spending to electronic retail due to e-learning and work from home trends, restrictions on promotional space in adherence to social distancing safety measures and an increase in VAT last July. We also accrued additional costs meeting restocking demands during lockdowns to ensure our procurement and logistics functions ran smoothly. Nevertheless, we continued to operate effectively, navigating the challenges strongly and posting both a sales and net profit increase.
"Given our long-term perspective, 2020 was also a year of opportunity in terms of strengthening our business. We added 5 new stores taking our total to 74 stores, our ecommerce platforms witnessed a significant surge in downloads (Danube Online downloads increased by more than 65%), we announced our first international store which is expected to open in Bahrain in late 2021/early 2022, we continued to digitalize our procurement function, logistics and back-end operations and we successfully listed our company on the Saudi Stock Exchange (Tadawul) in October 2020. I look forward to sharing our progress in the years to come as we pursue our objective of becoming the leading grocery retail business in the KSA and the GCC."
"In conclusion, our number one priority in 2020 was to support our customers and our communities in what was an immensely challenging year. The socio-economic impact of Covid-19 was felt by everyone, everywhere. We pivoted rapidly, implementing new health and safety measures that were established by the government, while continuing to serve our customers via our supermarkets and ecommerce platforms. I am proud of all our employees across our organization for their tremendous and tireless service during the pandemic to serve the communities where we operate."
Financials: FY 2020
Revenue reached SAR 5,156.5 million for the full year 2020, an increase of 6.5% as compared to SAR 4,843.8 million in 2019. The growth in sales was driven by Danube supermarkets, which contributed SAR 3,655.5 million, a year-on-year increase of 17.5%. Danube opened 5 new stores in 2020 and witnessed a growing demand for premium food, with average basket size up 10% year-on-year. Danube's record sales helped to offset a fall in BinDawood supermarket sales which declined from SAR 1,733.4 million in 2019 to SAR 1,501.0 million in 2020. The decline was principally related to pandemic travel restrictions leading to an absence of pilgrim inflow during Umrah, Hajj and Ramadan seasons and store restrictions in the Makkah and Madinah area, coupled with the lack of promotional campaigns such as Back to School, year-end and food festivals.
The Company's gross profit rose to SAR 1,671.9 million in 2020 versus SAR 1,644.5 million in 2019. However, gross profit margin declined by approximately 160 basis points to 32.4% compared to 34% in 2019. The decrease was largely attributable to lower profitability of the Makkah and Madinah stores and surrounding areas reflecting the reduction in footfall and the loss of festival and promotional campaigns due to the need to ensure all stores were fully compliant with government health and safety social distancing regulations. The impact of these factors was largely offset by an encouraging reduction of shrinkage and wastage costs as a result of a conscious effort by management to improve operational efficiency.
Operating expenses were broadly in line with 2019. Increase in operating expenses due to the opening of 5 new stores, the full year impact of 2019 stores and Covid-19 expenses related to health and safety compliance measures were largely offset by lower utility costs as a result of subsidies provided by the government and waiver of certain bank charges.
Challenges notwithstanding, the Company's full year 2020 net profit increased to SAR 447.7 million, representing a growth of 6.8% year-on-year.
The Company's financial position continued to be strong. Cash generated from operations in FY 2020 was SAR 657.5 million and at the year end the Company had a cash balance of SAR 232.2 million with no bank debt after payment of a SAR 318.6 million dividend.
Financials: Q4 2020
Revenue declined by 8.8% to SAR 1,113.2 million in Q4 2020 compared to SAR 1,220.3 million for the same period last year. Danube sales remained inline at SAR 812.6 million in Q4 2020 versus SAR 807.6 million in Q4 2019. BinDawood store sales declined to SAR 300.6 million, 27.2% lower than Q4 2019. The loss in revenue was due to the international flight restrictions leading to a loss of pilgrim visits for the Umrah season. Travel restrictions were reimposed at the onset of a second wave of Covid-19 in Q4, despite optimism for a gradual normalization of the trading environment particularly in Makkah, Madinah and the surrounding area. Furthermore, store sales suffered because of a drop off in promotional campaigns to adhere to social distancing norms and the absence of the important Back to School season following the introduction of e-learning and a shift in buying habits to electronic goods.
Gross profit was SAR 359.1 million in Q4 2020 compared to SAR 421.8 million in Q4 2019, with gross profit margin at 32.3% versus 34.6% respectively due to the loss of festival and promotion campaigns and lower profitability in the stores serving the pilgrims. Operating expenses increased slightly to SAR 296.8 million in Q4 2020 as compared to SAR 276.4 million in Q4 2019 due to an increase in Covid-19 related expenses on health and safety compliance measures for stores.
Net profit was SAR 57.4 million during Q4 2020 compared to SAR 123.8 million during Q4 2019.
Operations
In the full year 2020, the Company :
Opened five new Danube branches in Hail; Riyadh (Al Mazaar Takhasusi-1); Riyadh (Al Andalus Plaza); Khamis Mushait; and Jeddah (Fayfa Avenue).
Announced its first international branch outside KSA, to be located in Bahrain. The Danube hypermarket store will be located at the Al-Liwan Project, in the Hamala area in northern Bahrain, and will occupy a 5,305 sq/m space.
Witnessed an increase in ecommerce downloads on the Danube and BinDawood App platforms by 65% and 286% respectively. The online platforms currently source their products for delivery from across the Company's 31 stores and following the change in consumption trends and patterns, the Company is revisiting its strategy to scale up online operations in 2021.
Rolled out four major investments in technology infrastructure, including a new Oracle HR application called RADIX which enables the Company's HR department to automate processes through personalized colleague dashboards accessible by mobile application. It also introduced a new task management mobile application called Reflexis; an automation platform for managing supplier requests called SELA and an in-house development and deployment software called PROMO to help automate the management of weekly promotional campaigns.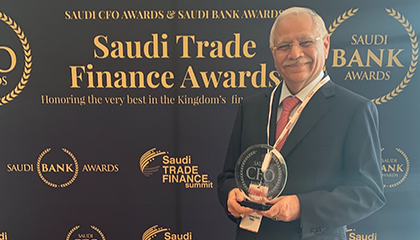 Chief Financial Officer of the Year
Salim Patka,
CFO of the Year
Saudi Trade Finance Awards
November 2019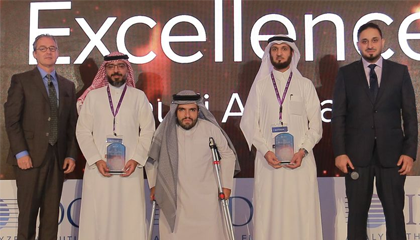 Digital Innovation Awards
Danube Online
Excellence in Digital Innovation
IDC CIO Excellence Awards, KSA
September 2019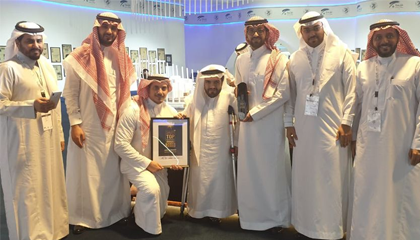 Industry Excellence Award Food & Beverage
Danube Online
Industry Excellence in Food & Beverage
March 2019